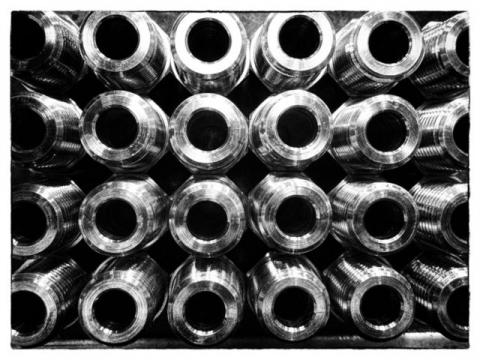 For the past couple weeks we discussed the Coil Coating application; WHAT the application entails and HOW to solve the problems unique to that tough environment. This week let's discuss WHY you would need monitoring, by looking at real life applications:
Coil Coating Case History - A manufacturer of metal roofing and gutter systems for the housing industry had a fire on their coil coating production line which temporarily shut them down. Due to the extensive damage, they had to purchase a brand new line. In order to fulfill their customer orders during the downtime they had to ask a competitor to produce the product for them.
Safety and fire codes outline the design specifications for the safe operation of solvent ovens. The codes limit the maximum solvent concentration allowable to 25% of the LFL under worst case operation. Large volumes of ventilation air must be heated and circulated to keep the solvent vapors in the oven at safe operating levels.
However, if a flammable vapor analyzer is installed as a safety control the maximum allowable concentration is 50% of the LFL, which means not as much air has to be heated to dilute the vapors. This can result in dramatic fuel savings.
The Company decided to equip their new line with LFL analyzers. In fact all zones were equipped with redundant PrevEx Analyzers in order to achieve maximum safety.They've even found they are "saving a substantial amount of energy which otherwise would have to be built into the cost of the product".
Find Out More Details
Coil Coating 101 Case History - A worldwide manufacturer of aluminum rolled products was using ventilation air to keep their solvent vapors at safe levels. Their ovens were designed to run below the 25% LFL limit, so a continuous monitor was not needed. However, for peace of mind, they wanted to be protected in case there was a sudden increase in the %LFL in their process.
After some investigation and education on the applicable NFPA codes, they chose to install PrevEx Analyzers on their ovens. With the analyzers in place the they were able to confirm that their process was running below 25% LFL.
However, they did find on a number of occasions their process increased to 35% LFL and on one occasion signaled an alarm at 40% LFL. In addition to meeting their safety needs, they also experienced a reduction in ventilation air and fuel costs.
Find Out More Details
Upgrade FTA to PrevEx Case History - This Company was installing a new Regenerative Thermal Oxidizer on their coil coating line. The RTO manufacturer would not allow the oxidizer to be started up without solvent vapor analyzers being online and working properly. The Company had 15 year old Control Instruments SNR550 LFL analyzers but they had been offline for a number of years. They needed to get them back on-line and working properly ASAP. However due to the age of the systems the delivery time for some of the spare parts could take many weeks and in some cases months. These long delivery times would hinder the speed of the RTO commissioning and their production schedule.
As a solution we suggested a purchase of new PrevEx Flammability Analyzers to replace the critical SNR550s. The cost of this was comparable to on-site service and the basic spare part requirements that would be needed for re-start. Installation would be easy since they use the same utilities and mount to the duct work in the same way. In addition they could be up and running within two weeks of when the order was placed.
The Company chose to buy one PrevEx Analyzer to see how it would perform. They immediately saw the time and cost benefits of the new system. After this successful installation they purchased several more.
Find Out More Details