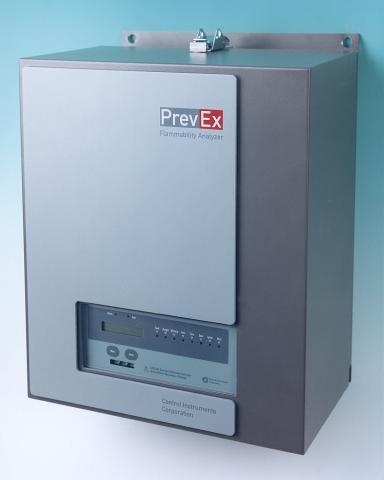 For the past month we shined the spotlight on process ovens & dryers; we've looked at WHAT goes on in the application, WHICH hazards to avoid and WHY they should be monitored. We also discuss HOW monitoring can actually reduce costs & save money. This week let's look at some real life applications:
Extrusion Film Casting Case History
This company is primarily engaged in the manufacturing of synthetic resins, plastics materials, and non vulcanizable elastomers.Polymers (consisting of DMAC, Acetic Acid, DMF and others) are used to cast a 60" wide film that is then transported through a drying oven. Large streams of heated air are used to evaporate off the solvents. There are four zones in the process oven.
There is danger of an explosion from the buildup of solvent vapors in the oven dryer atmosphere. This buildup could occur by a malfunction in the production process such as: a sudden or improper amount of coating, a change in ventilation controls or excessive speed. In any of these cases, the concentration of flammable vapor has an opportunity to rise above safe levels, creating a potentially explosive mixture of vapor in air.
Due tothe serious anture of this hazard the comapny wanted to install a solvent vapor analyzer in each oven zone to warn operators when the LFL reached 25%, and they needed one that could handle the varying mixtures of the process.
They chose to install PrevEx Flammability Analyzers on each zone of their process oven. PrevEx analyzers give consistent and reliable readings even when the oven atmosphere contains mixtures of solvents and other materials. There is no need for recalibration, giving excellent cross-calibration accuracy and ultimately eliminating incorrect readings.
Find out more details.
Metallized Pigment Case History
This large manufacturer of chemicals for several markets (performance products, agricultural, & chemicals) employed drying ovens where solvents are evaporated off. Solvent laden air is collected and sent to an oxidizer for destruction.
The Company wanted to monitor the flammability of the drying oven to prevent a buildup of flammable solvent vapors that could cause an explosion. They needed an analyzer that could handle the resins present in the sampling atmosphere. These resins could condense out and cause clogging if not kept in the vapor state. Clogging issues increase downtime and maintenance costs.
They chose to install PrevEx Flammability Analyzers on the drying oven. These analyzers are fully heated to keep all the elements of the dryer atmosphere, including the resins, in the vapor state eliminating clogging and sample condensation. They are industrial strength analyzers that feature fast response, failsafe operation, low maintenance and easy servicing.
Find out more details.