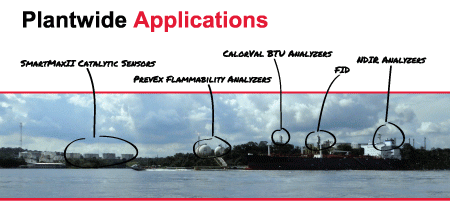 For the past few months we've shined the spotlight on chemical process applications. We've discussed LFL Monitoring, BTU Monitoring, PPM Monitroing, Flammable Gas Monitoring, and Area Monitoring in a chemical facility; now let's put those words into action and take a look at a real chemical plantwide application, encompassing most of these technologies:
Energy Savings on Process Heating Units - A specialty chemical company was increasing the production capabilities of one of its four polymer process lines. The increase in production capabilities would come from the upgrade of several process heating sources such as heat exchangers and dryers, as well enhancing the safety of these systems to accommodate increased production loads.
They worked with the Regional EPA in their Pollution Prevention (P2) Program to add an appropriate-sized oxidizer and enhance their flare operations for its increased production capabilities and to upgrade their LFL monitoring system on their batch dryer for safety reasons.
Their goal was to increase energy efficiencies and optimize productivity while reducing emissions, thus saving money. To accomplish it they installed a FID (to measure the total hydrocarbons at the outlet of their oxidizer for destruction efficiency), a BTU Analyzer (to monitor the lower heating value of their varying waste stream), and LFL Analyzers (to read their varying gas composition on their batch dryers).
After 2.5 years of providing continual results to the EPA, the company has been able to show dramatic cost savings and high efficiencies of their processes:
Flare - They have found that their waste gas is typically ~ 600 BTU/scf, which means that they do not need to use any natural gas to keep their flare operating! They are sustaining their flare from their own process gases.
Oxidizer - They have continuously proven by using the readings of the Model 650 FID that their Catalytic Oxidizer is operating effectively and abating their VOCs at lower temperatures, and have thus been allowed to reduce the Destruction Efficiency rating from >95% to 90%; which is another dramatic fuel savings, not to mention a huge savings on catalytic bed replacement!
Dryers - By upgrading the LEL systems, they have been able to increase product throughput of their process accurately and safely, which has resulted in improved delivery times.
Find out more details.